Resource Description
Is your gospel 3D? Western theology emphasizes legal forgiveness of sins, but people in the Majority World seek honor or spiritual power. In today's globalized world, Christians need a three-dimensional gospel. Learn how the Bible speaks to cultures of guilt, shame, and fear, and enhance your cross-cultural ministry among the nations!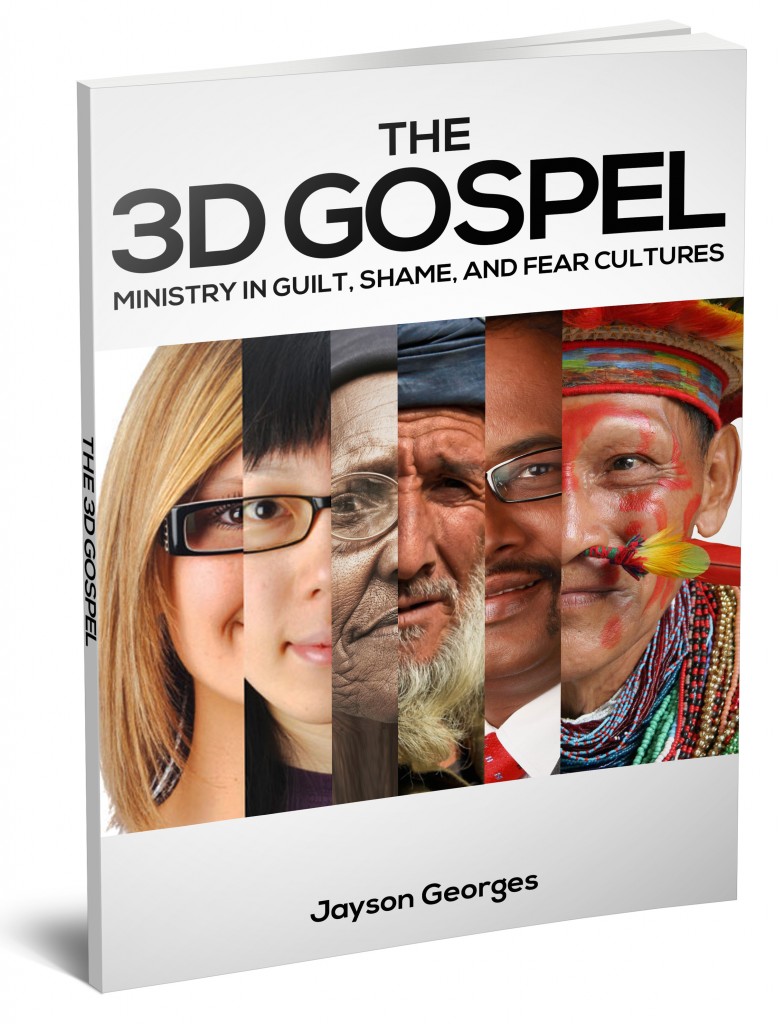 The 3D Gospel is a concise book explaining the world's three primary culture types and how Christians can fruitfully minister cross-culturally. The 3D Gospel explains the following aspects of guilt, shame, and fear cultures:


The main cultural characteristics
How people function in everyday life
The biblical narrative of salvation
Doctrines of original sin and the atonement of Jesus
Definitions of 40+ theological categories
Key verses from scripture
Two separate evangelistic approaches
A contextualized form of Christian witness
Practical tips for relationships and communication
And more, for only $3.99 (Kindle version. Paperback is $8.99).
This ministry primer is suitable for training programs, conferences, and sending agencies. 50% discount on volume purchases—a case of 50 for $225. Click here to order.
Author
Jayson Georges (MDiv, Talbot) lived in Central Asia for nine years doing church planting and micro-enterprise development. He is the author of The 3D Gospel and blogs at HonorShame.com. He serves with an evangelical organization, developing tools and training for Christians working in honor-shame contexts. More here.
Translations:
The 3D Gospel is also available in Russian (3D Евангелие), French (L'Évangile en 3D), and Spanish (El evangelio en 3D).
Endorsements:
"The 3D Gospel is an excellent, eye-opening treatment. Jayson Georges's research, scriptural insights, and use of these three worldview lenses is of great value to those of us who minister to and with the nations." –Jeffrey A. Gill (D.Min., Ph.D.), Vice President and Dean, Grace Theological Seminary

"The 3D Gospel makes significant cultural concepts approachable and easy to see. Thank you Jayson for helping people grasp the complexity of global cultures and its implications for Christian mission." -Judith Lingenfelter (Ph.D.) Professor of Intercultural Studies, Biola University

"I am excited that The 3D Gospel  is now available. It is a practical guide for Christians who want to see how different types of cultures and worldviews influence how we read the Bible and develop mission strategies." –Jackson Wu (Ph.D.), seminary teacher in Asia, author of Saving God's Face.

"With many of our worlds colliding — modern, postmodern, Western, Eastern, immigrant, expatriate, etc., The 3D Gospel provides the needed "color-correction" to our lenses when presenting the gospel. If you're wondering what might be missing as you communicate the gospel outside of your home context, read The 3D Gospel — there simply is no other resource like it." –David Park, pastor of Open Table Community and host of Next Gener.Asian Church